Discover more from Five O'Clock with Theral Timpson
Good evening. Let's relax and contemplate something.
"Garden Minestrone:" A Vegetable Soup Recipe for These Early Days of Autumn
Summer is turning into Fall.  It's a gradual transition this year where I live.   Did I see the goldfinches taking some last fresh baths in the fountain today before it freezes?  I feel the same way.  It is hard to let go of summer when you live in winter country.    To ease the transition into Fall, I'm posting  one of my favorite recipes, which still makes use of the bounty from the farmer's market, yet will warm you up when the cold comes.
Called "Garden Minestrone" by the Essential New York Times Cook Book, which is where I got it, this veggie variation on the traditional Italian soup will leave you feeling calm and content.  Importantly, it gets its broth from  gently stewing the layered vegetables which release their own liquid.  Whenever I cook this favorite for guests, I always hear positive comments, often requests for the recipe.  So here it is.
Garden Minestrone
Ingredients:
2 large sliced tomatoes (peeled if you don't like skins in your soup)
2 medium onions, thinly sliced
1 clove of garlic minced
2 large zucchini, sliced
1 head Romain lettuce, shredded (I usually substitute Napa cabbage because its more sturdy, yet still leafy)
2 pounds fresh peas, or one 10 oz package of frozen peas (the frozen peas work great)
2 tablespoons minced basil
1 cup minced flat leaf parsley
1 pound of your favorite beans (I usually use frozen lima beans, but have used cooked black beans and red kidney beans)
1/3 cup olive oil
Salt and freshly ground black pepper
Freshly grated parmesan cheese
Directions:
(Be sure to follow the order and do not stir.)
1.  Layer the sliced tomatoes at the bottom of your favorite soup pan (at least 6 quarts) that can go on the table.  Top with the sliced onions and garlic.  Next, layer on the zucchini.  Add the shredded lettuce (cabbage).  Place the peas on top of the lettuce.  Sprinkle the basil and half the parsley over the peas and top that with the beans.  Sprinkle the remaining parsley on top and the olive oil over all. Be sure to follow this order and do not stir or mix the vegetables.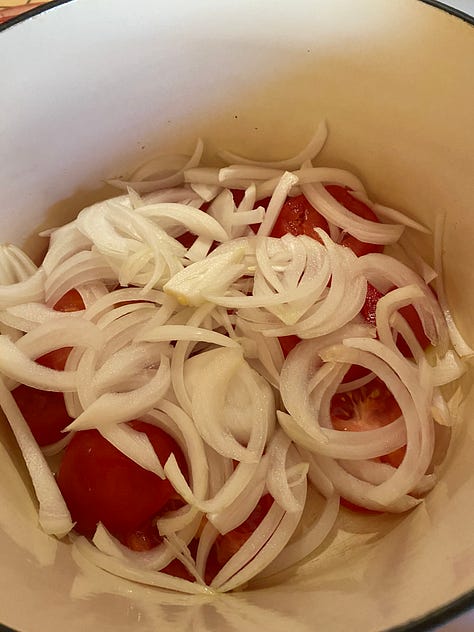 2.  Cover the pot and cook over medium heat for 10 minutes, or until the vegetables at the bottom have released their liquid.  Season with salt and pepper.
3.  Now stir the vegetables and mix well.  Cook, covered, over low heat, stirring occasionally, just until the beans are tender, 15 to 20 minutes.  The original recipe says add no water, and its a wonderful broth that comes from the vegetables.  But occasionally I will add a little mild broth to stretch for more diners.  This is basically a cooked salad in your bowl with a little broth underneath.  Serve hot, or lukewarm, with Parmesan cheese on top.
Pair with toasted ciabatta and a Langhe Nebbiolo wine. To the change in the seasons, cheers!